The Trust Online Bulk Upload Tool allows registered users to submit and update claims in batch. The Bulk Upload tool is packaged as a zip file which includes an executable file, several Microsoft Access templates and other system files used by the tool.
Bulk Upload Tool Prerequisites:
In order to install and use the Bulk Upload Tool on a computer workstation, the following software prerequisites apply:
Supported Operating Systems:
Windows 2000, Windows NT, Windows XP, Windows Vista, Windows 7
Required Software:
Microsoft Office Access 2000, Access 2002-2003, Access 2007
Microsoft .NET Framework Version 3.5
The Microsoft .NET Framework Version 3.5 is free and available from Microsoft.com at the following link: 
Microsoft .NET Framework Version 3.5
Bulk Upload Tool Setup:
1)
Extract the bulk upload tool .zip file into a directory of your choice on the LOCAL workstation.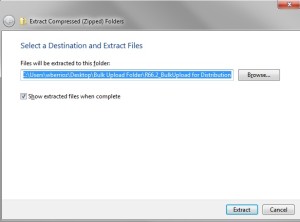 2)
If your Internet access is governed by a Proxy Server, you may need to alter the Bulk Upload Tool configuration file. See 'Readme – PROD' for details.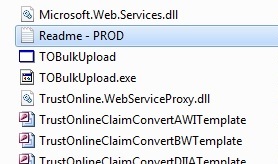 3)
Double click the TOBulkUpload.exe file to launch the Bulk Upload Tool.  Make sure to click on the first file labeled TOBulkUpload, the other is used for configuring the tool.

4) We are now ready to begin using the Bulk Upload Tool.  Return to the Tutorial to learn how to submit new claims or edit existing claims.
You have completed the Getting Started Tutorial.  We hope that the lesson was informative and helpful.  If you would like additional assistance, please contact the Trust at (866) 665-5790.  For a printer friendly version of this tutorial click on the link below.
Getting Started – Tutorial
BACK TO TUTORIALS